"Unconditioned water makes life hard to love!"From soap scum and scaly skin to low water pressure and costly appliance breakdowns, a homeowner pays dearly for filling their plumbing system with untreated water from a well or a municipal water system. Fortunately, the solution is easy: add a home water treatment system from T's.

The moment your new system is turned on, you'll start enjoying all the benefits treated water can bring including:
• Suds galore whenever you shower or do household cleaning
• Beautiful hair with more luxurious volume, softness and manageability
• Softer skin that feels noticeably smoother after bathing, showering or shaving
• Sparkling dishes and china with no filmy buildup, while using half the dish soap and no dishwasher rinse additives
• No more scrubbing to remove water scale deposits from sinks, tubs, toilets, cutting boards and counter tops
• Soap savings of up to 50% on laundry detergent, dish soap, shampoo, fabric softener and more *
• Energy savings by improving water heater efficiency nearly 30% *
• Fluffy towels and cleaner clothes that look brighter, feel softer and last longer
• Cooler ice cubes that freeze clearer and harder for more attractive drinks
• Appliance performance improvements in dishwashers and washing machines…. no more water scale buildup on internal parts
• Cleaner, clearer plumbing that works easily, clogs less readily and maintains full pressure longer

* Source: Water Quality Association

268/760 Logix
• True 1″ Flow Throughout System
• Only two moving parts in the water stream
• Remote mounting of face plate inside house available
• Easy to program
• NOVRAM Memory
(Stores Critical Operating Information Including Time of Day During Power Outages)
• Upper Distributor Prevents Loss of Resin to Service or Drain
• Flow Rates Up To 25 GPM to deliver maximum pressure with a minimum of pressure drop
• 12 Volt UL/CSA Electrical System with 12' Cord (No Danger of Electrical Shock)
• Economy Priced with Premium Features
• Includes Brine Well and Brine Pickup Tube

Valve System Features
• Time Clock – adjustable 1-99 day regeneration frequency setting
• Electronic Meter Control (No Gears -No Mechanical Drives)
• Digital Display * In service display will toggle between time of day and gallons remaining.
• 28 Day Variable Reserve (For Greater Efficiency) * Calendar Override *

Optional Features
• Full Flow ByPass Valve
• Salt Grid
• Safety Brine Valve Assembly
• Tank Jackets
• Turbulator Distributor * remote mounting kit * Cabinet model available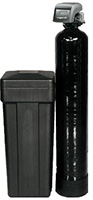 268/760 Logix – 1″ HF Meter
1.0 CUFT; 9X48; 268/760 LOGIX
1.5 CUFT; 10X54; 268/760 LOGIX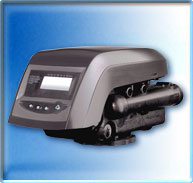 Logix (268/760)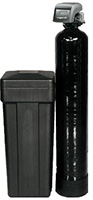 Logix (255/760)




Ultramax

Standard Features
• WQA Gold Seal Certified units available
• 1″ true high flow throughout system
• Multi language display; including SPANISH – (268/860 only)
• Self sanitizes during regeneration and senses low brining with the Low salt/ Chlorine regenerator sensor probe – (268/860 only)
• Programmable Service reminder – reminds customers to call you for servicing their equipment including RO filter changes.
• Remote mounting of face plate inside house available
• Only two moving parts in the water stream.
• NOVRAM Backup Maintains Memory During Outages
• 28 Day Self-Adjusting Variable Reserve (learns customer water usage)
• Attractive and Durable Chrome Tank Jacket
• Fully Programmable Control
• Easy to program
• All Units Equipped with Safety Brine Valve Float Assembly Prevents Accidental Overflow and Salt Grid Assemblies
• Refills Brine Tank with Soft Water
• Flow Rates up to 25 gpm
• In service display; toggles between flow rate and gallons remaining [268/762]
• In service display; Time of day, water flow and bars remaining before regeneration – [268/860]

*Ultramax is sold only to selected dealers in protected territories.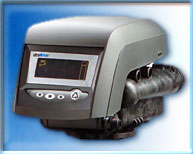 Ultramax Logix 268/762
1.0CUFT;9X48 ;268/762 LOGIX
1.5CUFT;10X54;268/762 LOGIX
2.0CUFT;12X52;268/762 LOGIX
Ultramax Logix 268/860
1.0 CUFT;9X48 ;268/860 LOGIX
1.5CUFT; 10X54; 268/860 LOGIX
2.0CUFT; 12X52; 268/860 LOGIX
2.5CUFT;13X54;268/860 LOGIX




Logix 268/860

Benefits
• Never run out of soft water – 24/7/365
• Keeps resin cleaner – regenerates with soft water
• Saves salt because it regenerates "precisely" when needed
• Higher flow rates – minimal pressure drop
• Less maintenance – fewer moving parts
Features
• 21st Century Computer Electronics
• Just two (2) moving parts in the water stream
• 24-volt electrical system
• Includes 1″ Stainless Steel Bypass Valve