Water Purification – Chlorination Systems
The Ultimate in Water Treatment this system handles high iron, high H2S, bacteria and more.
Chlorination is a water treatment that destroys disease-causing bacteria, nuisance bacteria, parasites and other organisms. Chlorination also removes soluble iron, manganese and hydrogen sulfide from water.
Disease-causing bacteria can infect humans and animals in several ways. Fecal waste from an infected host frequently carries organisms which cause diseases such as typhoid fever, paratyphoid fever, bacillary dysentery, infectious hepatitis and others. Disease-causing organisms are transmitted from host to host in many ways including through a contaminated water supply. Human and/or livestock populations concentrated together with improperly located or constructed wells may result in contamination of water supplies by sewage or fecal wastes.
There is no substitute for a safe and sanitary water supply. If your water supply becomes contaminated, elimination of the source of contamination is the most permanent solution.
Constant Pressure/Chlorination Repressurization Systems
Besides the benefits mentioned above, a chlorination system has the ability to also control the pressure in your house. We use only the best in quality and technology available to provide an outstanding system that combines peace of mind with functionality and versatility. Constant Pressure systems are a real benefit to those with slow producing wells because it uses a system that holds water above ground, treats it, then pressurizes it for use in your home utilizing a submersible pump (SQE) inside the storage unit. However those with slow producing wells are not the only to benefit from this technology. Many acreages and others have found this process helpful. Giving them the peace of mind that comes from knowing that whatever changes happen to their well can be handled. The versatility that comes from the ability to CHANGE your pressure in your home to whatever you desire*. Also providing a real lasting investment in their property that attracts prospective buyers and gives them confidence in the quality of their water.
*Dependant on pipe size and materials.
Here are examples of some of the equipment we use on a chlorination repressurization system!
Grundfos CU 301 Control Box Unit
Grundfos SQE Submersible Pump
Click on this link to download more information!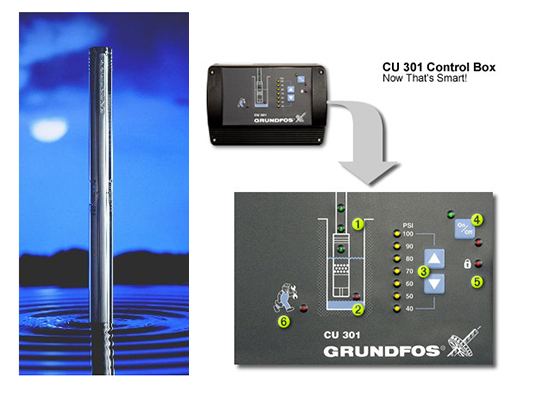 1. Green arrows indicate when water is flowing.
2. A run-dry alarm shows when the pump has stopped because of low water conditions.
3. You can easily boost pressure in the system for special jobs. Easily return the water pressure to normal when finished.
4. Green and red lights clearly show you whether the system is on or off.
5. For daily use, the pressure settings can be locked.
6. If the system needs repair, a maintenance light provides a clear signal.

Frankiln Monodrive Control Box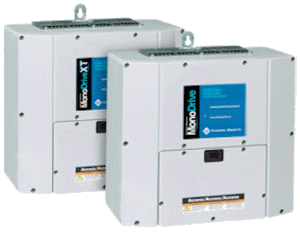 While SubDrive provides constant pressure using single-phase input power with a three-phase motor, MonoDrive is designed to provide constant pressure for single-phase, three-wire systems – even those already in place. You can have constant pressure just by replacing a three-wire control box.

Features
Selectable Hp rating (1/2, 3/4 and 1 hp)
Easy installation – remove the three-wire control box and install the MonoDrive
Retrofits existing systems – no need to pull the pump
NEMA 1 Rated Enclosure
Single-phase, three-wire


Benefits
Constant water pressure with a wide range of settings (25 to 80 psi)
Soft start feature prevents water hammer and increases motor life
Works with small pressure tanks or existing larger tanks
UL and CUL listed
Smart Reset™ technology allows well recovery before restarting the pump
Excellent radio frequency interference shielding
Easy installation


Applications
Residential Homes
Schools
Restaurants
Car Washes
Farms
Landscape Irrigation Systems


Built-in Diagnostics and Protection
Surge Protection
Underload
Undervoltage
Locked pump
Open circuit
Short circuit
Overheated controller

Enclosure Options
The NEMA 1 enclosure is rated for indoor use only. It is ideal for installation in garages, basements and pump houses where there is no risk of rain, blowing dust or other harsh conditions.
The NEMA 4 weatherproof enclosure is designed for both indoor and outdoor use and offers robust protection against harsh environmental conditions.
The NEMA 3R electrical enclosures are typically used in outdoor applications for wiring and junction boxes. This style of weatherproof enclosure provides protection against falling rain, sleet, snow, and external ice formation. Indoors they protect against dripping water. This style of enclosure does not have a gasket sealing surface. Some models have hasps for padlocking.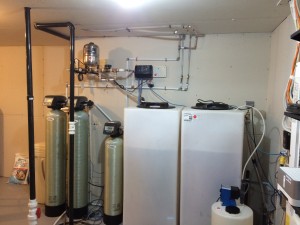 Here is a real life example of a Chlorination Repressurization system utilizing a Pulsatron chemical feeder* (pictured on chemical tank)
*Optional Upgrades